Greetings from the President
Welcome to the official website of the Japanese Society of Toxicologic Pathology (JSTP).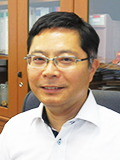 Thank you for your getting interested in the Japanese Society of Toxicologic Pathology (JSTP). Because I was appointed to the president and the chairperson of the board of directors on February 2, 2019, by JSTP's General Assembly, and am serving my 3-year term, I'd like to give you some words. JSTP was established in 1985, and since then has been working with and contributing to toxicologic pathology and its related fields, not only in Japan but also world-wide. JSTP acts under the policy from the global point of view, keeps close and friendly relationships with all of the toxicologic pathology societies in the world and the International Academy of Toxicologic Pathology (IATP), and is a member of the International Federation of Societies of Toxicologic Pathologists (IFSTP).
Human beings are forced to be exposed to chemicals during their lives, and thus it's critically important to assess and manage their risks, and communicate sufficient information. On the other hand, chemicals are beneficial, if their functions and practical applications are scientifically justified and adequately developed, respectively, and if as aforementioned their risks are appropriately assessed and managed. Toxicologic pathology, among others, is a great tool to control chemicals by maximizing their beneficial functions and at the same time minimizing their risks. Therefore, the mission given to us, toxicologic pathologists, is truly sublime and important. As a president, I'm really confident to tell you that we the members of JSTP are ready and in fact doing our best to complete the mission. Why don't you become more familiar with JSTP and, if you feel it attractive enough, act with us ?
JSTP conducts a wide variety of businesses, such as holding annual scientific meetings, publishing the official journal, the Journal of Toxicologic Pathology (JTP), and many others. I strongly encourage you to cruise our website to get information about our organization and businesses, and then try to participate in and enjoy our services. As the first step, it may be a good idea for you to learn JTP, our official journal. JTP is a web-based, open-access journal, and don't worry, its articles are written in English. I'd like to emphasize here that PubMed Central, the famous Thomson Reuters' Web of Science and numerous other literature search engines cover JTP, meaning that your contribution, if you do it (DO IT !), will be a world class.
Well, did my words make you feel happy ? If so, I'm more than be pleased and welcome you all to become our friends whatever it means for you. Enjoy your life with us. Yours, truly.
Standing Committee:
Ad hoc Committee:

General Affairs Committee
Membership Committee
International Committee
Board Certification Committee
Education Committee
Publication Committee
Communication Committee
International Terminology Committee
Our members are actively contributing in Japan to the progress of biological sciences, and the development of new drugs, pesticides, and food additives. In addition, they are involved in making decisions for the risk assessment of these chemicals and environmental chemicals. Furthermore, the activities of the JSTP are not limited to Japan but are expanding internationally. The JSTP was a founding member society of the International Federation of Societies of Toxicologic Pathologists (IFSTP) and has been maintaining good relationships with toxicologic pathologists and/or their regional societies all over the world.
Taking into consideration that keen public attention has been paid to the safety and confidence for drugs and chemicals containing in food, we now need to step ahead our activities for public society to obtain more the social recognition of the importance of toxicologic pathology not only from the academia but also from the public society. We hope that each of the society members will positively participate in the activities of our organization, and also would like to continue our efficient operation to the service for our members during these 3 years.